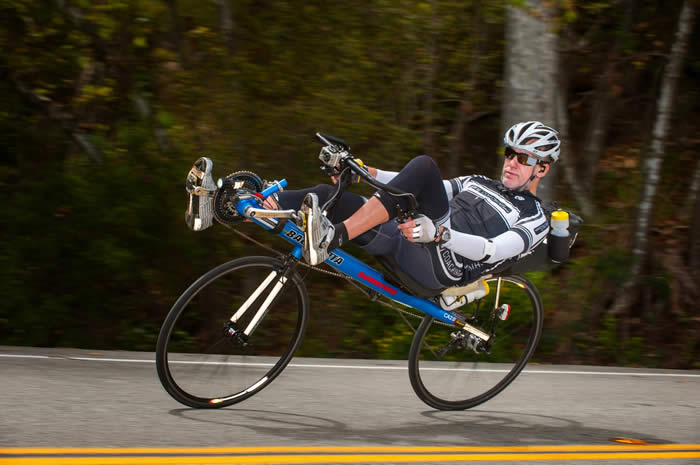 Associate Coach Jim Verheul
Active racer since 1984 with experience in road, TTs, and ultra marathon cycling on both road bikes and recumbents, cyclo-cross, MTB XC and DH racing, randoneurring.
Former USAC/NORBA racer (cat2/elite), official, and promoter of over 30 races. President of 2 cycling clubs. 8 years as a pro bike shop service manager and fitting specialist.
Sebring, FL, UMCA 24hr drafting course record holder: 523.9 miles.

World 12 Hour Time Trial Champion 2012.

Highest overall UMCA Ultracup 12 Hour Challenge mileage: 768 miles in 3 events, 2 are still course records.
Coached Sebring 24hr Women's RAAM Qualifier record holder, and overall RAAM Qualifier winner in 2012.
Coached the rookie 2010 Bent Up Cycles RAAM Team to third place in age group.
JBVCoaching client and powermeter user since 2005.
Mentor to newer riders for 2 decades.
Available for ultra cycling events as a crew chief, navigator, mechanic, driver.
References available upon request.
Jim's blog: jv-cycling.blogspot.com
Listen to Jim on Over The Top Radio, an interview from March, 2012.
Email Jim, or call him at (805) 796-7194
Testimonials
"Just wanted to say thank you for the work you've done to help me get ready for the Trans Am Bike Race! I feel really good and am hoping that things work out better this year so that my journey ends in Virginia. Over the last 5 months of training I've learned so much about how to train more effectively and how to use my power meter to better understand the efforts I'm making and to be more controlled and measured in those efforts. This will be invaluable during the race and should help me to reach my goal of a sub-20 day finish. Anyway, I just wanted to tell you that I really appreciate the role you've played in this little adventure of mine!"
— Jason Oestreicher
"Jim was my one of my very early mentors in the sport of bicycle racing. He taught me so much; from how to sit on the bike relaxed to when to attack and go for the win! After reviewing races and discussing tactics and strategies with Jim, I got pretty good at anticipating what was going to happen in a race before it happened. Basically, he taught me how to win! It was with his encouragement, knowledge and support that I was able to work my way up the ranks from beginner to competing at the National Level with the Brueggers Women's Cycling Team. His passion for the sport of cycling is contagious and clearly left its mark on me as we now both pursue the art & science of coaching athletes to success!"
Hunter Allen Peaks Coaching Group Elite/Master Coach
"Several years into my riding I had begun doing 12 hour events, but I was feeling burnt out and at the same time wondered if I had reached my potential.
I read an article by Jim "JV" Verheul and was really impressed with what he had written and the scientific approach he seemed to take. I asked JV if he would be willing to coach me for the 2012 Sebring 24 hour RAAM qualifier race. He agreed and began giving me high quality work-outs. We live on opposite coasts so all coaching occurred by e-mail and phone, which worked very well.
I was accustomed to doing a lot more mileage, but I enjoyed the challenging work-outs. JV helped me with every part of riding and racing. We talked about my technique and he gave me suggestions to improve mine. He helped me with specific hydration and nutrition plans. He discussed lighting and gearing and wheels with me, and made sure my bike was set up correctly for the race. He also encouraged and listened to me. He is an expert about all aspects of cycling and bicycles and is an incredible cyclist himself. He shared his knowledge willingly with me and I have learned so much during the time he has coached me. The results at Sebring exceeded my highest goals, and I set a new course record for women! I am looking forward to continuing to grow as a cyclist as I continue working with JV."
— Maria Parker
2012 24H RAAM Qualifier open winner (475.5 miles), 24 Hours of Sebring
"The great thing about starting competitive ultra cycling late in one's life is that you achieve a really late peak! I hadn't been on a bike in 45 years, when I picked cycling on a challenge at age 55. I borrowed a bike, then bought a DF [diamond frame] bike, and a year later got my first recumbent. Once I discovered the world of Ultra Cycling, my life changed forever. Now at age 64 I'm doing 400 mile 24h races, and if I'm fortunate enough to live to 100, I want to do a century that year! Over the last 9 years I've become increasingly more serious about this sport. Each year I've tried to do something to counter any perceived or actual effects of age. What I've done this past year is to hire a coach. My search for the right coach led me to Jim Verheul and I'm completely confident he's the best choice I could have made. He asked all the right questions during our initial interview. He then built workout plans for me with a careful eye to over-training and insuring good recovery and rest. His philosophy is a holistic approach with great advice on sleep, rest, nutrition, hydration coupled with some high intensity work. Jim has taken me to a whole new level of performance in just six months. I've blown away personal bests in half century, metric and century rides. Through Jim's guidance, I've gotten out of the older rider mode of riding too hard on easy days and not nearly hard enough on hard days. Most importantly, I've developed a trust in Jim and firmly believe with his help, my best riding is still ahead of me."
—John Harthoorn.
"I first became aware of Jim through a couple of on line forums. I was new to cycling; and it was apparent that he was seen by the other forum members as an authority on all things bike. After reading several of his posts, I went back and read everything he had written on the forums. Now it's three years later and I'm still learning from him. He's extremely knowledgeable on equipment, aerodynamics, training, and nutrition. He enjoys coaching, and seeing his clients improving and reaching their goals. Oh, and he's the fastest guy I know on a bike."
— Eric Anderson
Anaheim, CA
"Jim took me from a recreational ultra cyclist who bonked much too often to a team RAAM winner in five months with straight forward training schedule and careful attention to the power meter, proper fueling during rides, and proper recovery after them. Although some parts of the training were hard both mentally and physically, the over package was fewer hours and much more effective than my previous year of my own ad hoc training. I watched my average speeds on regular courses improve dramatically, yet I was not burned out after the rides. Use of the power meter was key, as prior to that I really had no idea how extreme my power excursions were and how severely that affected my muscle glycogen stores. Thanks Jim! I'm looking forward to how well this works for upcoming monster climbing double century rides."
—Willie Hunt